Main content start
Event recap: AI in Fintech and Machine Learning in Banking
Event recap: AI in Fintech and Machine Learning in Banking
Sharing
Event recap: AI in Fintech and Machine Learning in Banking
Fintech, Artificial Intelligence and Machine Learning are hot topics in the globe. For Finance and Banking sectors, the application of Fintech becomes more and more popular. In particular, AI is using in portfolio management and algorithmic trading requires the advanced techniques of machine learning. Based on the latest Policy Address, the Government of Hong Kong SAR is putting extra effort to promote the development of Fintech in Hong Kong. As one of the leading educational institutions providing quality education programmes in Hong Kong, HKU SPACE would like to arouse the interest of general public by hosting theme talks under the "Edinburgh Napier University x HKU SPACE Open Evening and Networking Event" on 19 Mar 2018 evening.
Starting from the welcome speech delivered by Prof. N. R. Liu, Deputy Director (Business and China), Head of College of Business and Finance, HKU SPACE and opening speech given by Ms. Naomi Graham, Vice Principal of Internationalisation, Edinburgh Napier University, over hundred participants had attended the theme talks delivered by Dr. Seen-Meng Chew, the Head of Research at FinFabrik, as well as Dr. Martin Qiao, the Lead Architect for Machine Learning Automation, HSBC. Participants paid full attention to appreciate the latest application of AI in finance and investment and recognize the significant impacts due to Fintech. Moreover, they were interested in understanding how machine learning can add value to banking and finance sectors. Thanks to both the informative sharing and interactive discussions, the event was finished with large applause successfully.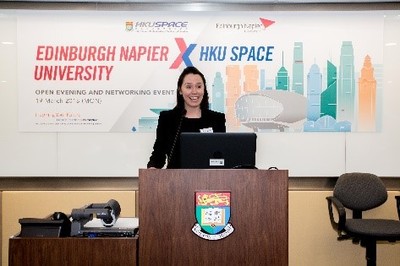 Opening speech given by Ms. Naomi Graham
Welcome speech delivered by Prof. N. R. Liu
Dr. Seen-Meng Chew, guest speaker of AI in Fintech
Dr. Martin Qiao, guest speaker of Machine Learning in Banking
Read Prev
Event Recap: Big Data Theme-Based Seminar - "How to Apply Big Data in Investment Management?"
Read Next
Executive Certificate in Applied Business Analytics and Decision Optimization