Main content start
Life at HKU SPACE Our Stories
OPEN SPACE 2023 opened gate to the unknownEvent Recap
Date

10 Jun 2023 (Sat)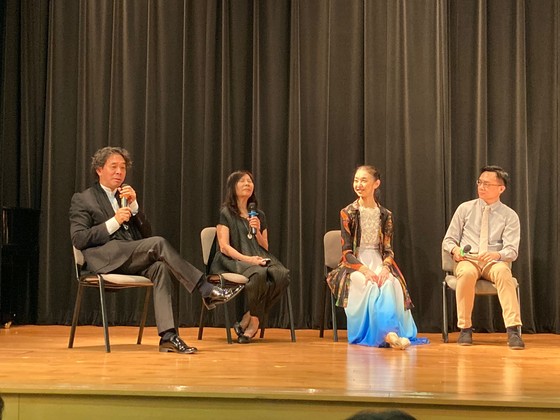 OPEN SPACE 2023 was successfully held on 10 June. To celebrate this day, the School has arranged a pre-Open Day event "When Ballet meets Chinese Music – Emi Hariyama and Nancy Loo" on 28 May. This was an art collaboration between the revered ballerina Ms Emi Hariyama and renowned pianist Ms Nancy Loo. On stage were also members from New Tune Chinese Orchestra and Mr TK Tan, Senior Programme Director of HKU SPACE. As a cultural exchange, this charming performance was not only an interaction between Japanese and Hong Kong musicians, but an artistic convergence of ballet and Chinese music.
Conversation with the latest technology
ChatGPT has become globally known in the past few months. This widely popular AI chatbot has many applications, including programming, translation, and creative writing. It can also converse freely with humans and has enormous potential, making it a rapidly growing technology trend.
Recognising this, this year's OPEN SPACE focused on the keynote talk "The future is here: How OpenAI and ChatGPT are changing the way we live and work?". CEO & co-founder of ThinkCol Transform, Kane Wu, analysed in various aspects how ChatGPT could change our lives and the commercial world. The talk also explored the major impacts and opportunities it brought to the ever-changing market, shedding light on the future development of ChatGPT.
AI technology is sweeping the world, bringing different degrees of changes to business operations and job functions in different industries. Talks such as "The Impact of ChatGPT and AI on Human Capital Management in Organisations", "ChatGPT and FinTech", "Does ChatGPT Complement the Understanding of Feng Shui" allowed audience to find out the application of ChatGPT in different industries and in real life, and to realise the challenges it brings to corporate development.
Striving for professional improvement, experiencing cultures, and unlocking secrets of wellbeing
The OPEN SPACE talks covered a wide range of topics. "Career Prospect in Railway Engineering Technology", "Tree Management in HK 101" and "From Interest to Profession: Becoming a Nutritionist and a Dietitian" helped attendees improve professional skills and stand out in their industries.
We all have our own lifestyle and hobbies, some like wine, some are fascinated by the craftsmanship of watchmaking. In "The Path to Craft Beer Professionals and Entrepreneurs", the speaker and the audience set out on a path to explore the artistic and commercial values of craft beer. In "The World of High Horology - Material and Polishing", we delved into the world of High Horology, digging into the interesting stories behind.
Attendees travelled from the Middle East to Japan and Korea through talks of "Arabic Trial Lesson", "Kodo: A 500-Year Tradition - A Lecture by Souhitsu Hachiya, 21st Generations Designate Master of the Shino School of Kodo" and "South Korea's Waste Disposal and Recycle System", exploring cultures and aesthetics of different nations around the world.
A healthy body and mind are the greatest asset in life. "Chinese Medicine's Health Maintenance and Cuisine", "How Mindfulness Enhances Personal Wellbeing", "Pediatric Tui-Na", "How to Use Bazi for Wellness Planning" gave insights on maintaining physical fitness, relieving stress, and applying the knowledge of Bazi to achieve personal wellbeing.
The School's Open Day featured 40 talks and received an enthusiastic response from the public. It attracted more than 750 in-person participants and the total number of online viewers reached over 5,000. The talks can be rewatched on HKU SPACE's YouTube channel (https://youtube.com/c/HKUSPACEOfficial).