Main content start
Life at HKU SPACE Our Stories
A 3-year plan of enhanced e-Learning to strengthen leading positionEvent Recap
Date

10 Dec 2020 (Thu)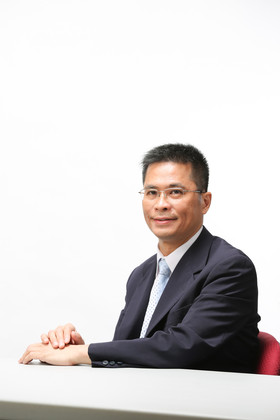 In response to certain social events in 2019 and the outbreak of COVID-19 in 2020, Hong Kong's education institutions have switched from face-to-face to online learning. This is in line with the policy of HKU SPACE. In order to improve the development of e-Learning, the School has devised a 3-year plan. On the one hand, it introduces innovative education and supporting materials which utilises advanced technology based on the needs of different disciplines; on the other hand, it helps to deepen teachers' skills in teaching virtually. It is believed that with the two approaches complementing each other, it will be more effective for students to learn. This marks the School's leading role in the development of online teaching.
Software and hardware are in place for rapid development
Professor William K.M. Lee, Director of HKU SPACE, said, "Changing times and rapidly advancing technology have an important impact on teaching and learning. Combined with information technology, e-Learning can inspire creative teaching and improve learning efficiency, which is in line with the School's teaching reform concept. E-Learning is more helpful in complementing the shortcomings of face-to-face teaching through breaking geographical boundaries. It's an effective model for practicing lifelong learning as well as being a megatrend in education development." At the beginning of this year, the School devised a 3-year plan for 2020-23 to improve teaching software & hardware and talent training. It is an important milestone for the School in teaching innovation and development.
In terms of hardware, the School invested HK$20 million to equip classrooms with e-Learning facilities and upgraded software and hardware. At the end of last year, the School invited an American expert consultant to provide detailed advice on setting up modern classrooms and accelerated the pace of development due to the COVID-19 pandemic. As of the end of September this year, the School has upgraded 144 classrooms for online teaching. Teachers can broadcast courses in the classrooms for students' online learning.
Professor Sonny S.H. Lo, Chairman of the Committee on Technology and Teaching and Learning as well as the Deputy Director (Arts & Sciences) at HKU SPACE, said, "As of the end of October 2020, virtual classrooms have been used over 20,000 times for online classes in the past year. Also, amongst the School's total programmes/courses, the percentage of e-learning programmes/courses has risen from nearly 60% in the 2016/17 academic year to over 90% in 2019/20, and more than 70% of which were programmes/courses which used a blended learning model and e-Learning pedagogical principle to design/develop materials."
In addition, since 2018, the School has developed CAVE (Cave Automatic Virtual Environment) and VR (Virtual Reality) laboratory facilities in the HKU SPACE Island East campus; and in July 2020, it set up a new CAVE system and VR laboratory at the TechnoSPACE technology center, Island South (Pokfulam) campus, to deepen students' virtual learning experience. In terms of software, as of 31 July 2020, the School has developed a total of 27 VR/AR (Augmented Reality) content and employed them in 75 courses, including aviation, architectural design, library services, nursing, pharmaceutics, sports and recreation management and strategic retail marketing.
Talent training improves skills and teachers turn into technology experts
Software and hardware are ready, and teachers must also know how to use them flexibly in order to achieve effective e-Learning. Professor Lo pointed out, "The basic structure of learning and teaching is composed of teaching, learning and assessment. This triangular relationship develops and changes due to different times, environments and other external changes. When the structure is transferred from physical classrooms to the virtual world online, teachers need to be both teachers and technology experts." Therefore, the School regularly organises training courses to introduce teachers to the latest technology and knowledge, such as virtual classrooms, C​​AVE (Cave Automatic Virtual Environment) and SOUL 2.0. As of July 2019, more than 150 training courses were held in the past year to help them develop and teach online courses, and around 2,700 teachers and staff attended. The training courses this year have been more extensive and with deeper content, with 4 major themes: elementary e-Learning, advanced e-Learning, supplementary teaching enrichment (such as teaching apps) and pedagogical issues. The relevant videos have been uploaded to the SOUL 2.0 online learning platform for teachers to watch or review at any time.
E-Learning is a reversal of traditional learning and teaching models, and has brought great challenges to both teachers and students. In addition to improving software skills, teachers also need to add more diversified teaching materials, such as videos or other elements, to make their courses more exciting and interesting. As for students, Professor Lo said, "They are young and flexible - they can master computer skills very quickly and hardly have any difficulties in operating computer programmes or electronic equipment."
Switching from physical to virtual classrooms not only has an impact on teaching and learning, but assessment for learning effectiveness also need to be adjusted accordingly. The traditional method of having students gathered in examination rooms for written examinations has been turned into external examinations, such as marking grades based on essays.
Looking ahead to the future, Professor William K.M. Lee believes that, "E-Learning has become the mainstream of learning and teaching, depending on its pace of development. This year, due to an emergency, we switched from face-to-face to online learning in a short period of time. It's a revolutionary change as well as a difficult transition. However, with social changes and market transformations, we must keep up with the times to avoid being obsolete."
Source: HKU SPACE Committee on Technology and Teaching and Learning 3-Year Pan for 2020-23 (Oct 2020) and Progress Report on the UGC Quality Assurance Council
Audit of Sub-degree Operations of HKU (August 2020)