Main content start
Life at HKU SPACEOur Stories
Queen of the Cue – Ng On Yee on Mind PowerHKU SPACE
Ng On Yee, also known as "Hong Kong Cue Queen", routinely adjusts her signature round-framed spectacles as she speaks. She claims this extra pair of 'eyes' is her trump card. We are in the snooker room of the Hong Kong Sports Institute, the space where the young star built her career. Ng recounts her moving story with quiet yet captivating charisma – and we wouldn't expect anything less from the world's reigning ladies snooker champion.
Reflections of a World Traveler
In the past, our world champion loathed studying. "It used to be so boring," she says, "and I would snooze in class". After Form Five, Ng quit school to become a professional snooker player. As the Chinese saying goes, real life and real experiences trump book-learning. However, would Ng later wish she had studied harder as a student?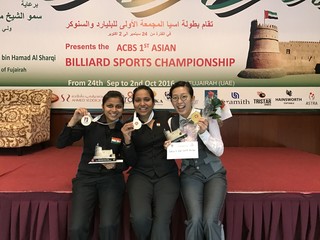 Ng was soon jet setting around the world for international snooker events. Her encounters with people from different backgrounds quickly prompted her to reflect on her inadequacy. "The vastness of the world made me contemplate on my lack of knowledge. Whenever I tried to hold a conversation with people, I found that apart from snooker, I knew absolutely nothing." Ng thus decided to take up studying again and enrolled in an Advanced Diploma in Accounting at HKU SPACE. Initially concerned over whether studying would hinder her training, Ng eventually found the time off from snooker to be beneficial, as it enabled her to return with a refreshed mind and an increased appreciation for her sport. "This time round, studying feels very different, because it's my own choice," says Ng. "I find myself revising on my own initiative, and actively asking questions whenever I encounter any difficulty."
Returning to study also expanded Ng's social circle. She made friends outside the world of snooker, becoming acquainted with accountants, sales executives and students. "Whenever a snooker competition clashed with a school test or a class, my teacher would arrange for me to take the test either earlier or later, and my classmates are always happy to keep my notes."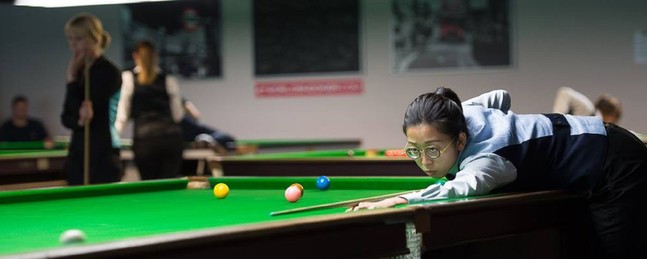 Overcoming her Primary Opponent: Herself
Sitting before us, clad in an immaculate waistcoat and bow tie, Ng's presence radiates a palpable aura of accomplishment and potential. A few years back in 2014, however, Ng endured a low period in her career. After losing 0:6 to Reanne Evans, world champion at the time, Ng not only broke down in tears in front of everyone in the arena but also let her frustrations encumber her performance in subsequent competitions. "I kept getting prematurely eliminated. Every time I missed a shot, I would beat myself up. I kept comparing myself to my opponents, even during practice. Once I even rushed into the changing room to cry. I remember asking my coach whether I was not suited for playing snooker after all."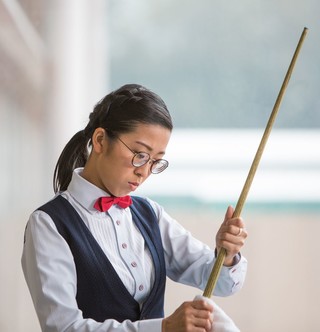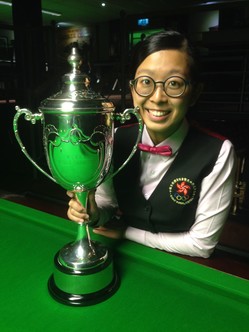 Ng's coach encouraged her to regard her career as a journey, reminding her to enjoy it in order to perform well. Even lost games should be seen as invaluable lessons, for each match is an opportunity to learn and improve. Gradually Ng became less fixated on results, learning to embrace each challenge without being haunted by failure. "As a professional snooker player, I need to respond to each shot with grace and poise, whether it's a good shot or a miss. I need to be able to manage my emotions. The ability to think positively; to compare myself only with my past performance; to keep seeking progress and improvement – these are the markers of a true sports person." Eventually, Ng defeated Evans at the World Championships in 2015 and was crowned the new world ladies' champion. Since then, Ng's skills, confidence, and mental acuity have continued to go from strength to strength.
In addition to adjusting her mindset, Ng keeps a snooker diary. "After each day's training I jot down answers for 'Good', 'Better', and 'How'. For 'Good', I ask: What did I do well? For 'Better': What can I do better? And for 'How': How can this be achieved?" Evidently, it was with both physical dedication and mental determination that Ng built her reigning snooker empire.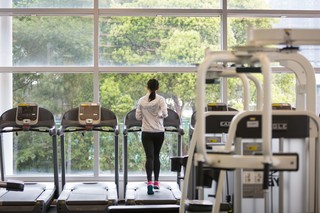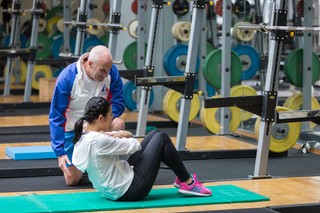 Learning: Opening a New Chapter in Life
Ng finds Hong Kong life in general too rushed and work-focused, with most people leading stressful yet monotonous lives. She recommends: "Why not take some time from work to learn something new? I took some "time off" to study, and it did a lot for me when I returned to the snooker table!"
From our Cue Queen's perspective, forcing ourselves to do something we have no interest in inevitably results in agony. On the other hand, if we choose to develop a passion, we might find ourselves voluntarily sacrificing leisure time to learn and to improve. She concludes with this recommendation: "I have a motto: If you believe it, you can achieve it. Never stop believing in yourself."