Main content start
Catering and Culinary Service on Board
This course is on the list of <Professional Training and Examination Refund Scheme> under <Maritime and Aviation Training Fund>. Eligible applicants are refunded with 80% of their fees, subject to a maximum of HK$30,000 (whichever is less) of the fees.
此課程已列入<海運及空運人才培訓基金>的<專業培訓課程及考試費用發還計劃>名單,「基金」最多可獲發還80%或上限30,000港元的費用 (以數額較小者為準) 。
Programme Overview
Highlights
(The copyright of the photos is granted by
SINO JET MANAGEMENT LTD.)
Hong Kong is an international aviation hub, the demand of travelling in both commercial and business aviation is very high. With the new terminal and the third runway project undergoing in the Hong Kong International Airport, as well as the opening of the Hong Kong-Zhuhai-Macau Bridge, the scale and demand of aviation service of Hong Kong International Airport would further expand. The demand of business aviation is emergent and is particularly high in some Asian cities/countries such as China, Macau, and Singapore.
The experiences of on-board preparation for guest meals with different types of beverages are the core components of this programme, and it aims to offer professional knowledge to students on how to deliver premium inflight service experience by private jet attendants. The needs of manpower with such expertise and skillsets are well expressed among business aviation in Hong Kong and in the region, students graduating from this programme may pursue career in business aviation sector.
ProGRAMME OBJECTIVE
This programme aims to meet the continuing education and professional development needs of those who are currently working in the business aviation field or those who have aspirations in developing their future careers in the private jet business. The programme provides core private jet management and operation concepts, as well as specialized knowledge in delivering premium inflight butler services. A broad and holistic view of private jet management will be given to students with particular emphasis on hospitality service techniques.
WHY DO YOU STUDY THIS PROGRAMME AT HKU SPACE?
• Hands-On Practices:
Students will be able to gain the hands on experiences of learning the plate and table setting on-board operation and procedures in real world. This skill allows you to top up the catering and culinary service knowledge and applies into your workplace and/ or pursues the career in the business aviation industry.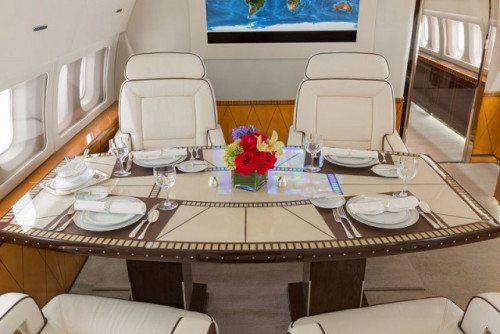 • Experienced teachers:
Our teachers come from strong hospitality and/or business aviation industry background, and students will gain extensive industrial knowledge with a lot of insights from teachers.
Teacher/ Guest Speaker Profile: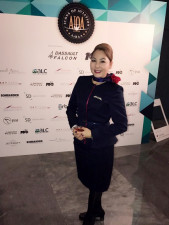 Ms Cindy Tse
Director Cabin Services,
Sino Jet Management Limited
""This program is designed for any students who are interested in butler service provision in the luxury and private settings of hotels and resorts, yachts and private jets. Students will be introduced professional service skills and exceptional standards of butlers in different aspects, such as etiquette and protocol, valeting services, table management, housekeeping management to decorating tips and luxurious food & beverage preparation. These skills are all very essential in order to succeed.
My teaching philosophy is "to always thrive for the best" which means that students should always focus on positivity and improve for self- betterment. After completion of the course, we have several successful stories and some of them had final interviews lined up in the private jet sector industry. ""
Specialties
Commercial and Private Airline and Airport Management
Education
Leadership & Talent Development
Luxurious Service & Hospitality
Selected Experiences
Gained working experience in the aviation industry for more than 20 years
Specialized in Team Leadership & Talent Management Programs
Design and deliver behavioral and organizational development programs
Certified Etiquette, Manners & Life Skills Trainer
Certified Crew Resources Management Trainer
Certified FISH ©Trainer
CIPD In Learning & Development
Energetic and experienced multi-lingual professional with solid track record of supporting senior executives in maintaining the highest standards of premium customer satisfaction
Ms Candy Li
Diplome de Patisserie Le Cordon Bleu Tokyo, Japan
Specialties
Luxury Services Training
Private Jet Menu Design and Catering Service Management
Fine Food Presentation and Plating Skills
Selected Experiences
Design and deliver cabin services training and management programs in business aviation
Experienced in commercial and private jet in-flight services and training
Seasoned designer of pastry and dessert menu and development of restaurant group food programs
Patisserie and food plating training instructor
INTENDED

LEARNING OUTCOME

On completion of the programme, students should be able to:

1. Identify the types of meals on board;
2. Discuss the logistics of catering ordering, transportation and storage;
3. Describe the concepts of luxurious dining on board;
4. Demonstrate basic culinary skills; and
5. Illustrate and practice catering service on board.
Programme Details
Programme

Structure

This 3-credit programme will have 12 face-to-face lecture hours. The lecturer will deliver the module in the wine room at IEC. Students learnt how to prepare the meals onboard including appetizer, main course, dessert with coffee & tea and how to serve meals and present the cutlery in a professional way. The flowery decoration and napkin presentation on the dining table will also be demonstrated.
Module

Contact Hours

Credits

Details of Module

Catering and culinary service on board

12 lecture hours

(2 days intensive workshop)

3

Meal choices on board: the preparation of breakfast, lunch, and dinner as well as appetizers, snack, and other types of food

Catering ordering and logistics for onboard meals

Culinary skill concepts: cooking and heating up foods in aircraft cabins, food presentation and plating techniques

Table planning, setting and seating
Appropriate way to deal with various types of spillages / accidents

*Total Fee: HK$2,000.00
(*The tuition fee is reviewed annually and is subject to change without prior notice.)
Teaching and Learning Approach
The prgramme will be offered in part-time mode, it will be delivered through face-to-face lecture in the Kitchen classroom. Students learnt how to taste and appreciate wine and spirits; and how to serve wine in a professional way.
Block teaching mode will be used to allow students to focus their learning, therefore, classes will be delivered in a 6-hour block for two days (Saturday and Sunday).
online application
Application Code
2140-1723NW
-
Duration
2 meeting(s)
6 hours per meeting
Modules & Class Details
Class Details
Session

Date

Time

Room

1

26 August 2023 (Sat)

10:00am - 1:00pm

TBC

2:00pm - 5:00pm

TBC

2

27 August 2023 (Sun)

10:00am - 1:00pm

TBC

2:00pm - 5:00pm

TBC
The programme team reserves the right to change the above timetable if necessary.
All classes are subject to sufficient enrolment.
MEDIUM OF INSTRUCTION
The medium of instruction and assessments will be in English and supplemented with Cantonese.
Assessment
Individual Assignment (60%) & Group Presentation (40%)
Awards
On satisfactory completion of this module, students will be issued the Statement of Achievement within the HKU system through HKU SPACE.
Articulation
Graduates of this programme may choose to study the full programme of "Certificate in Private Jet Hospitality Service Management"
Fee & Entry Requirements
Entry Requirements
Applicants shall:
Have gained in the HKDSE Examination Level 2 or above in 4 subjects including English Language; OR
Have gained in the HKCEE Level 2 / Grade E or above in 4 subjects including English Language; OR
Be aged at least 21 or above with three years of relevant work experience
Applicants with other qualifications and relevant work experience will be considered on individual merits.
Fee
Course Fee
Course Fee : 2,000 per programme
Apply
Application Form Download Application Form
Enrolment Method
Online Enrolment
HKU SPACE provides 24-hour online application and payment service for students to apply to selected award-bearing programmes and to enrol in most open admission courses (courses enrolled on a first come, first served basis) via the Internet. Applicants may settle the payment by using either "PPS by Internet" (not available via mobile phones), VISA or Mastercard online. Online WeChat Pay, Online AliPay and Faster Payment System (FPS) are also available for continuing enrolment in the same programme, if online service is offered.
For first time enrolment
Complete the online application form

Applicant may click the icon on the top right-hand corner of the programme/course webpage to make online application, and then follow the instructions to fill in the online application form.

Some programmes/courses may admit by selection, and may require applicants to provide electronic copy of any required documents (e.g. proof of qualification) as indicated on the programme/course webpage. Only file format in doc, docx, jpg and pdf are supported.

Make Online Payment

Pay the application or programme/course fees by either using:

"PPS by Internet" - You will need a PPS account and a PPS Internet password. For information on how to open a PPS account and how to set up a PPS Internet password, please visit http://www.ppshk.com.

*Credit Card Online Payment - Course fees can be paid by VISA or Mastercard including the "HKU SPACE Mastercard".

* HKU SPACE Mastercard cardholders who wish to enjoy 10-month interest free instalment scheme must pay their tuition fees in person at any of our HKU SPACE Enrolment Centres.
To know more about first-time online application/enrolment and payment, please refer to the user guide of Online Application / Enrolment and Payment:

For continuing enrolment in the same programme
Selected programmes offer online continuing enrolment service. Programme staff will inform students if they offer this service and offer further enrolment details.
Online Payment can be made via "PPS by Internet" (not available via mobile phones), VISA or Mastercard, Online WeChat Pay, Online AliPay and Faster Payment System (FPS)

In Person / Mail
For first time enrolment
For first come, first served short courses, complete the Application for Enrolment Form SF26 and bring or post the completed form(s), together with the appropriate application/course fee(s) and any required supporting documents to any of the HKU SPACE enrolment centres.

[Download Enrolment Form SF26]

Award-bearing and professional courses may require other information. Forms are usually available at the enrolment centres or on request from programme staff. Bring or post the completed form(s), together with the appropriate application/course fee(s) and any required supporting documents to any of the HKU SPACE enrolment centres.
For continuing enrolment in the same programme
The standard 'Enrolment/Payment Slip' is designed for students of award-bearing programmes or remaining programmes in a suite of programmes requiring continuing enrolment and it applies to most programmes.

Students should complete the "Enrolment/Payment Slip" which will be made available by relevant programme staff and return the slip to any HKU SPACE enrolment centre or post it to the relevant programme staff with appropriate fee payment.
Please refer to available Payment Methods for fee payment information. If you are in doubt about the procedures, please check the individual course details, or contact our programme staff or enrolment centres.
Please note the followings for programme/course enrollment:
To make an application online, you will need a computer with connection to the Internet and a web browser with JavaScript enabled. Google Chrome is recommended.

Applicants should not leave the online application idle for more than 10 minutes. Otherwise, applicants must restart the application process.

Only Early Bird Discount is supported for Online Applicants (Application). To enjoy other types of discount, please visit one of our enrolment centres.

During the online application process, asynchronous application and payment submission may occur. Successful payment may not guarantee successful application. In case of unsuccessful submission, our programme staff will contact you shortly.

Applicants are reminded that they should only apply for the same programme/course once through counter or online application.

For online enrolment, a payment confirmation page would be displayed after payment has been made successfully. In addition, a confirmation email would also be sent to your email account. You are advised to keep your payment confirmation for future enquiries.

Fees paid are not refundable except as statutorily provided or under very exceptional circumstances (e.g. course cancellation due to insufficient enrolment).

If admission is by selection, the official receipt is not a guarantee that your application has been accepted. We will inform you of the result as soon as possible after the closing date for application. Unsuccessful applicants will be given a refund of programme/course fee if already paid.
Disclaimer
The School provides a platform for online services for a selected range of products it offers. While every effort is made to ensure timeliness and accuracy of information contained in this website, such information and materials are provided "as is" without express or implied warranty of any kind. In particular, no warranty or assurance regarding non-infringement, security, accuracy, fitness for a purpose or freedom from computer viruses is given in connection with such information and materials.
The School (and its respective employees and subsidiaries) is not liable for any loss or damage in connection with any online payments made by you by reason of (i) any failure, delay, interruption, suspension or restriction of the transmission of any information or message from any payment gateways of the relevant banks and/or third party merchants for processing credit/debit/smart card or other payment facilitation mechanism; (ii) any negligence, mistake, error in or omission from any information or message transmitted from the said payment gateways; (iii) any breakdown, malfunction or failure of those gateways in effecting online payment service or (iv) anything arisen out of or in connection with the said payment gateways, including but not limited to unauthorised access to or alternation of the transmission of data or any unlawful act not permitted by the law.
Payment Method
1. Cash, EPS, WeChat Pay Or Alipay
Course fees can be paid by cash, EPS, WeChat Pay or Alipay at any HKU SPACE Enrolment Centres.
2. Cheque Or Bank draft
Course fees can also be paid by crossed cheque or bank draft made payable to "HKU SPACE". Please specify the programme title(s) for application and the applicant's name.. You may either:
bring the completed form(s), together with the appropriate course or application fees in the form of a cheque, and any required supporting documents to any of the HKU SPACE enrolment centres;
or mail the above documents to any of the HKU SPACE Enrolment Centres, specifying "Course Application" on the envelope. HKU SPACE will not be responsible for any loss of payment sent by mail.
3. VISA/Mastercard
Applicants may also pay the course fee by VISA or Mastercard, including the "HKU SPACE Mastercard", at any HKU SPACE enrolment centres. Holders of the HKU SPACE Mastercard can enjoy a 10-month interest-free instalment period for courses with a tuition fee worth a minimum of HK$2,000; however, the course applicant must also be the cardholder himself/herself. For enquiries, please contact our staff at any enrolment centres.
4. Online Payment
Online application / enrolment is offered for most open admission courses (course enrolled on first come, first served basis) and selected award-bearing programmes. Application fees and course fees of these programmes/courses can be settled by using "PPS by Internet" (not available via mobile phones), VISA or Mastercard. In addition to the aforesaid online payment channels, continuing students of award-bearing programmes, if their programmes offer online service, may also pay their course fees by Online WeChat Pay, Online Alipay and Faster Payment System (FPS). Please refer to Enrolment Methods - Online Enrolment for details.
Notes
If the programme/course is starting within five working days, application by post is not recommended to avoid any delays. Applicants are advised to enrol in person at HKU SPACE Enrolement Centres and avoid making cheque payment under this circustance.
Fees paid are not refundable except under very exceptional circumstances (e.g. course cancellation due to insufficient enrolment), subject to the School's discretion. In exceptional cases where a refund is approved, fees paid by cash, EPS, WeChat Pay, Alipay, cheque or PPS (for online payment only) will normally be reimbursed by a cheque, and fees paid by credit card will normally be reimbursed to the payment cardholder's credit card account.
In addition to the published fees, there may be additional costs associated with individual programmes. Please refer to the relevant course brochures or direct any enquiries to the relevant programme team for details.
Fees and places on courses cannot be transferrable from one applicant to another. Once accepted onto a course, the student may not change to another course without approval from HKU SPACE. A processing fee of HK$120 will be levied on each approved transfer.

Receipts will be issued for fees paid but HKU SPACE will not be repsonsible for any loss of receipt sent by mail.

For payment certification, please submit a completed form, a sufficiently stamped and self-addressed envelope, and a crossed cheque for HK$30 per copy made payable to "HKU SPACE" to any of our enrolment centres.
You will receive email notification of all the latest updates on your bookmarked programmes.