Main content start
Life at HKU SPACEOur Stories
University of the Arts London and HKU SPACE's MA graduates exhibit in Tai KwunEvent Recap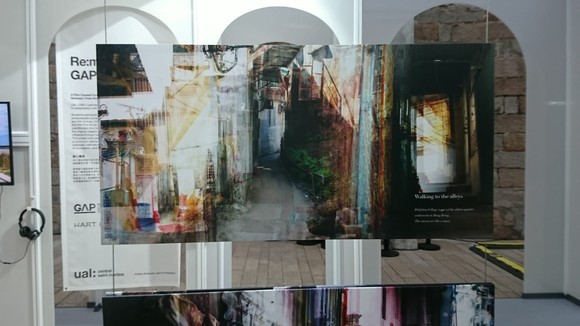 It has been three years since University of the Arts London (UAL) launched two Master of Arts programmes in collaboration with HKU SPACE. The partnership has moved forward from the classroom to the community. "UAL Global Pavilion" was a multi-media exhibition set up at Tai Kwun from 18 to 20 January 2019 as part of "SPARK: The Science and Art of Creativity" organised by the British Council. Graduates of MA Arts and Cultural Enterprise (ACE) and MA Media, Communications and Critical Practice (MCCP) shared their thesis ideas and artistic works with the public through the exhibits.
MA ACE graduates' works featured key aspects of arts and culture and discussed the development of creativity and arts with the audience through their thesis abstract. MA MCCP graduate Pien Wu reflected on the relationship between time and space and reconstructed the Pok Fu Lam Village in her work "Pok Fu Lam Village – Living place". Alison Chan and her partner Wesley Ho presented the actual liveable space of Hong Kong by the installation "Micro to Nano".
Related Programmes
- MA Arts and Cultural Enterprise *
- MA Media, Communications and Critical Practice *
* This is an exempted course under the Non-local Higher and Professional Education (Regulation) Ordinance. It is a matter of discretion for individual employers to recognize any qualification to which this course may lead.
You may also be interested in this course
- Postgraduate Diploma in Media and Cultural Critique