Main content start
28
May 2023
(Sun)
10
Jun 2023
(Sat)
Open SPACE 2023
The widely popular AI chatbot ChatGPT has many applications, including programming, creative writing, and translation. It can also converse freely with humans and has enormous potential for development, making it a rapidly growing technology trend. Recognizing this, this year's OPEN SPACE will focus on the keynote talk " The future is here: How OpenAI and ChatGPT are changing the way we live and work?" to explore how ChatGPT can change our lives. Other talks will also cover ChatGPT's applications in various industries, including Human Capital Management, FinTech, and Fung Shui, allowing you to fully understand how ChatGPT can bring earth-shattering impacts.
The OPEN SPACE on 10th June will be held online and offline, with 40 exciting talks covering the latest market hot topics, language and culture, physical and mental health, professional development, and more. It's definitely not to be missed!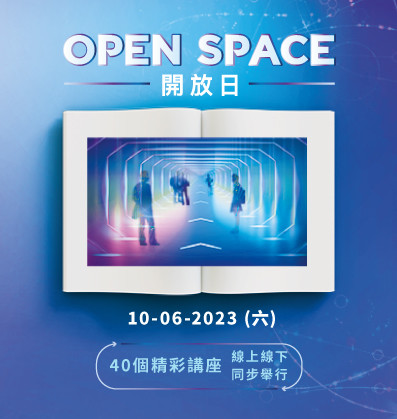 Keynote
10Jun 2023 (Sat)

11:00 - 12:30

Venue

🔷【In-person】: Professor and Mrs Enoch Young Lecture Theatre (Room 204), 2/F, Admiralty Centre, 18 Harcourt Road, Admiralty 🔷【Online】: HKU SPACE YouTube Channel

Speaker

Mr Kane Wu (CEO & Founder of ThinkCol Limited) ;

Facilitator: Dr Bruce Cheung (Head of College of Life Sciences and Technology, HKU SPACE)

Mr Kane Wu

Kane is the co-founder and CEO of ThinkCol Transform (https://thinkcol.com) – one of Hong Kong's first specialized data science consultancy firms. Over the years, he has advised and built AI solutions for many industry powerhouses from various fields. Managing data scientists, UI/UX designers and business analysts, Kane leads ThinkCol Transform to enable business to be more AI driven. Kane has been promoting data science in Hong Kong continuously. He is the chairman of the Hong Kong Data Science Society. Apart from lecturing at HKU Space, Kane has spoken in multiple international conferences and headed executive trainings on artificial intelligence. Being a seasoned digital consultant, a Certified Public Accountant and a New York attorney, Kane has the unique ability to manage multi-disciplinary ventures. He takes pride in using his technical know-how to transform companies, so that they can be data-driven and innovative entities.

Facilitator: Dr Bruce Cheung
Languages & Culture
28May 2023 (Sun)

14:30 - 16:30

Venue

Theatre, Lee Shiu Building, 28 Wang Hoi Road, Kowloon Bay, Kowloon

Speaker

Performing guest: Ms Emi HARIYAMA

Emi Hariyama graduated from the Bolshoi Ballet Academy and later joined the Stanislavski and Nemirovich-Danchenko Moscow Academic Music Theatre, the Boston Ballet, and more. She also danced in many major parts in the Berlin State Ballet led by Malakhov. She has received numerous awards, including the Special Prize at the Moscow International Ballet Competition, the Silver Medal at the Paris International Ballet Competition, and the Bronze Medal at the New York International Ballet Competition.

Performing guest: Ms Nancy Loo

Nancy Loo is one of the most versatile artists in Hong Kong, being pianist, radio programme host, actress, writer and educator all in one. She currently teaches at The Hong Kong Academy for Performing Arts, Hong Kong Baptist University, The Chinese University of Hong Kong and The University of Hong Kong. She attended the Juilliard School and The Royal Northern College of Music. Her teachers included Mieczyslaw Munz, Adele Marcus, Vlado Perlemuter, Guido Agosti, Ryszard Bakst and Derek Wyndham. In 1976, she won first prize at the 4th Rina Sala Gallo International Competition in Monza, and has since won awards in many other international competitions, including the Marguerite Long International Competition in Paris.

In-person registration is full.

3762 0820

10Jun 2023 (Sat)

11:00 - 12:00

Venue

Room 301,3/F, Admiralty Centre, 18 Harcourt Road, Admiralty

Prof Sonny Lo

Professor Sonny Lo Shiu Hing is a political scientist holding a Doctoral degree in Political Science from the University of Toronto in 1993, a Master's degree in Political Science from the University of Waterloo in 1986 and a Bachelor degree (Specialized Honours) in Political Science from York University, Canada, in 1985.

Dr Steven Hung

Dr. Hung Chung Fun Steven worked as an assistant professor at the Education University of Hong Kong for 10 years, and worked in public education after retirement.

10Jun 2023 (Sat)

11:00 - 12:30

Venue

Room 206,2/F, Admiralty Centre, 18 Harcourt Road, Admiralty

Mr Hachiya Souhitsu

Mr Hachiya Souhitsu is the 21st Generations Desginate Master of the Shino School of Kodo. Studied from 2002 at Daitoku Temple's Shogen-in under Zen Elder and Temple Master Izumida Kyokudou, who in 2004 conferred upon him the temple name Isshiken and Buddhist name Souhitsu. Cultural ambassador of the Japanese Ministry of Cultural Affairs and Honorary Member of the French Society of Perfumers.

10Jun 2023 (Sat)

14:00 - 15:00

Venue

🔷【In-person】: Room 301,3/F, Admiralty Centre, 18 Harcourt Road, Admiralty🔷【Online】: HKU SPACE YouTube Channel

Dr Amos Yung

Dr Amos Yung is the Programme Leader of the Professional and Business English (PBE) Programme at the HKU SPACE. Dr Yung had worked in the import and export industry for 16 years, received his MBA from HKU in 2012 and was awarded his doctorate in applied language sciences in 2020. His research focuses on collaborative behaviours in knowledge repository construction and interprofessional communication. Dr Yung was appointed as a Professional Mentor by the HKU Business School from 2012 - 2015 and is a member of the Beta Gamma Sigma (BGS) society, the International Pragmatics Association (IPrA), and the International Association of Language and Social Psychology (IALSP).

10Jun 2023 (Sat)

15:45 - 16:45

Venue

🔷【In-person】: Room 301,3/F, Admiralty Centre, 18 Harcourt Road, Admiralty 🔷【Online】: HKU SPACE YouTube Channel

Ms Kim You Ra

Ms Kim received M.A. in International Relations from Graduate School of Asia Pacific Studies, Waseda University, Tokyo. Prior to her studies in Japan, she worked as a conference interpreter after graduating from Graduate School of Translation and Interpretation, Ewha Woman's University, Seoul. Ms Kim spent her teenage years in Hong Kong and has a special affection for the city. Currently she works as a lecturer of Korean Studies at HKU SPACE Community College. Her research interests include international conflict management and East Asia regionalism.

10Jun 2023 (Sat)

15:45 - 16:45

Venue

Room 308, 3/F, Admiralty Centre, 18 Harcourt Road, Admiralty

Dr Lee Yung Yung Elsa

Under the tutelage of Van Cliburn medalist Barry Snyder, Elsa earned her Doctor of Musical Arts degree in Piano Performance and Literature from the Eastman School of Music, with a minor in Instrumental Conducting. She was awarded the Vaughan Scholarship from Eastman and worked as a graduate assistant in studio and orchestral accompanying. Elsa also earned her Master of Music Studies from the Sydney Conservatorium of Music and her Bachelor (Hons) of Music degree from the Hong Kong Academy for Performing Arts. Her teachers include renowned pianists and pedagogues Nancy Loo, Raymond Young, Elizabeth Powell, and Gerard Willems. Besides performing, Elsa is also a dedicated educator. She obtained a Master of Education degree from Columbia University in New York, USA. Elsa is also an active presenter at music education conferences and received the "Best Presentation Award" at the College Music Society Northeast Conference. She was selected as one of the five Yamaha Graduate Fellows to work closely with deans and music faculty from across the United States at the Eastman Music Leadership Conference in 2017. Elsa taught applied piano lessons at Columbia University and Chamber Music at ArtsAhimsa Chamber Music Festival in Lenox, MA, USA. Elsa is currently a lecturer and piano faculty at Hong Kong Baptist University, Hong Kong University - School of Professional and Continuing Education, and an honours project advisor at the Hong Kong Academy for Performing Arts.

10Jun 2023 (Sat)

15:45 - 16:45

Venue

🔷【In-person】: Room 314,3/F, Admiralty Centre, 18 Harcourt Road, Admiralty 🔷【Online】: HKU SPACE YouTube Channel

Mr. Ammar Saleh

Mr. Saleh is a native speaker of the Arabic language and has gained years of teaching experience. Having completed his master studies in the field of education, he is well-acquainted with different teaching methodologies.

10Jun 2023 (Sat)

15:45 - 17:15

Venue

Room 317, 3/F, Admiralty Centre, 18 Harcourt Road, Admiralty

Speaker

Mr Thomas Yuen

Mr Thomas Yuen received his Master of Arts in Fine Arts from the Chinese University of Hong Kong in 2011. He is active in the fields of interdisciplinary art, curatorial practice, and art education. He is also a professional member of the Hong Kong Society of Illustrators. He is good at working with the experimental nature of different media to respond to our inner and outer world. Watercolour is his core medium and he loves its transparency and versatility. His works illustrate the form and status of plants in the urban landscape. His watercolours have been published in various books and are collected by private and commercial collectors. As an art educator, he encourages participants to find a way of painting that works for them. He also works with schools and organisations to explore different ways of painting with different social groups.