Main content start
28
May 2023
(Sun)
10
Jun 2023
(Sat)
Open SPACE 2023
Thanks for your participation!
The above event has been completed successfully. Please look forward to the upcoming events.
Want to read more about the event recap?
The widely popular AI chatbot ChatGPT has many applications, including programming, creative writing, and translation. It can also converse freely with humans and has enormous potential for development, making it a rapidly growing technology trend. Recognizing this, this year's OPEN SPACE will focus on the keynote talk " The future is here: How OpenAI and ChatGPT are changing the way we live and work?" to explore how ChatGPT can change our lives. Other talks will also cover ChatGPT's applications in various industries, including Human Capital Management, FinTech, and Fung Shui, allowing you to fully understand how ChatGPT can bring earth-shattering impacts.
The OPEN SPACE on 10th June will be held online and offline, with 40 exciting talks covering the latest market hot topics, language and culture, physical and mental health, professional development, and more. It's definitely not to be missed!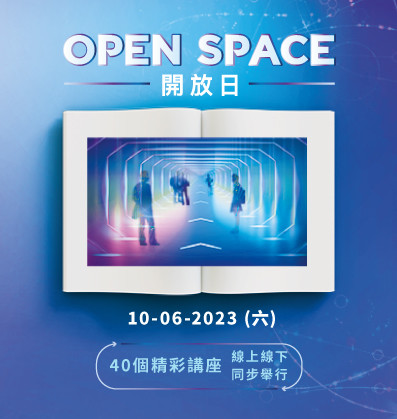 Keynote
10Jun 2023 (Sat)

11:00 - 12:30

Venue

🔷【In-person】: Professor and Mrs Enoch Young Lecture Theatre (Room 204), 2/F, Admiralty Centre, 18 Harcourt Road, Admiralty 🔷【Online】: HKU SPACE YouTube Channel

Speaker

Mr Kane Wu (CEO & Founder of ThinkCol Limited) ;

Facilitator: Dr Bruce Cheung (Head of College of Life Sciences and Technology, HKU SPACE)

Mr Kane Wu

Kane is the co-founder and CEO of ThinkCol Transform (https://thinkcol.com) – one of Hong Kong's first specialized data science consultancy firms. Over the years, he has advised and built AI solutions for many industry powerhouses from various fields. Managing data scientists, UI/UX designers and business analysts, Kane leads ThinkCol Transform to enable business to be more AI driven. Kane has been promoting data science in Hong Kong continuously. He is the chairman of the Hong Kong Data Science Society. Apart from lecturing at HKU Space, Kane has spoken in multiple international conferences and headed executive trainings on artificial intelligence. Being a seasoned digital consultant, a Certified Public Accountant and a New York attorney, Kane has the unique ability to manage multi-disciplinary ventures. He takes pride in using his technical know-how to transform companies, so that they can be data-driven and innovative entities.

Facilitator: Dr Bruce Cheung

In-person registration is full. Please register for online attendance.

2975 5853